Christchurch
Finally enough dust has settled, allowing this second earthquake event documentation page / editing to begin..
Back to 4 September 2010 or forward to 13 June 2011 InfoHelp earthquake page

22 February 2011 catastrophic Earthquake Incident Viewer ECan+CCC & Ushahidi "non-profit tech company that develops free & open source software for information collection, visualization & interactive mapping" + 2011 Christchurch earthquake wikipedia +
February 22nd aftershock Natural Hazards Research Platform NHRP +
geonet.org.nz/Canterbury Quakes "Information about the on-going earthquakes in the Canterbury region since the magnitude 7.1 Darfield (Canterbury) earthquake of September 4 2010" & aftershocks * * * * *
EQR.co.nz "Helping the recovery in Canterbury" Fletcher Construction + Quake Families .org.nz "to assist in protecting the interests of those families who have lost loved ones in the Christchurch earthquake"
The hidden fault that caused the February 2011 Christchurch earthquake GNS Science
The Canterbury Earthquakes: Scientific Answers Press Release: The Royal Society of New Zealand 16Mar11 scoop.co.nz + Christchurch Earthquake Journal story sharing chcheqjournal.com
JoJo's place "for kids like you who have been in an earthquake" + Rebuild Christchurch "One brick at a time" stupidly? + ReimagineChristchurch.org.nz "Christchurch Your city Your future" + MagneticSouth.net.nz "an online discussion game - Exploring a future for Christchurch together" + ChristchurchIT.org.nz "non-profit initiative from the New Zealand Computer Society (NZCS), in partnership with Recover Canterbury and supported by most ICT groups in NZ, helping smaller Christchurch-based businesses get back on their feet again" + aftersocks.co.nz "Fundraising to support Canterbury - warming hearts . warming toes . warming Cantabrians" Rural Women NZ
ChristchurchQuakeMap.co.nz time-lapse visualisation science Paul Nicholls

Feb 22 2011 - Christchurch badly damaged by magnitude 6.3 earthquake geonet.org.nz/news :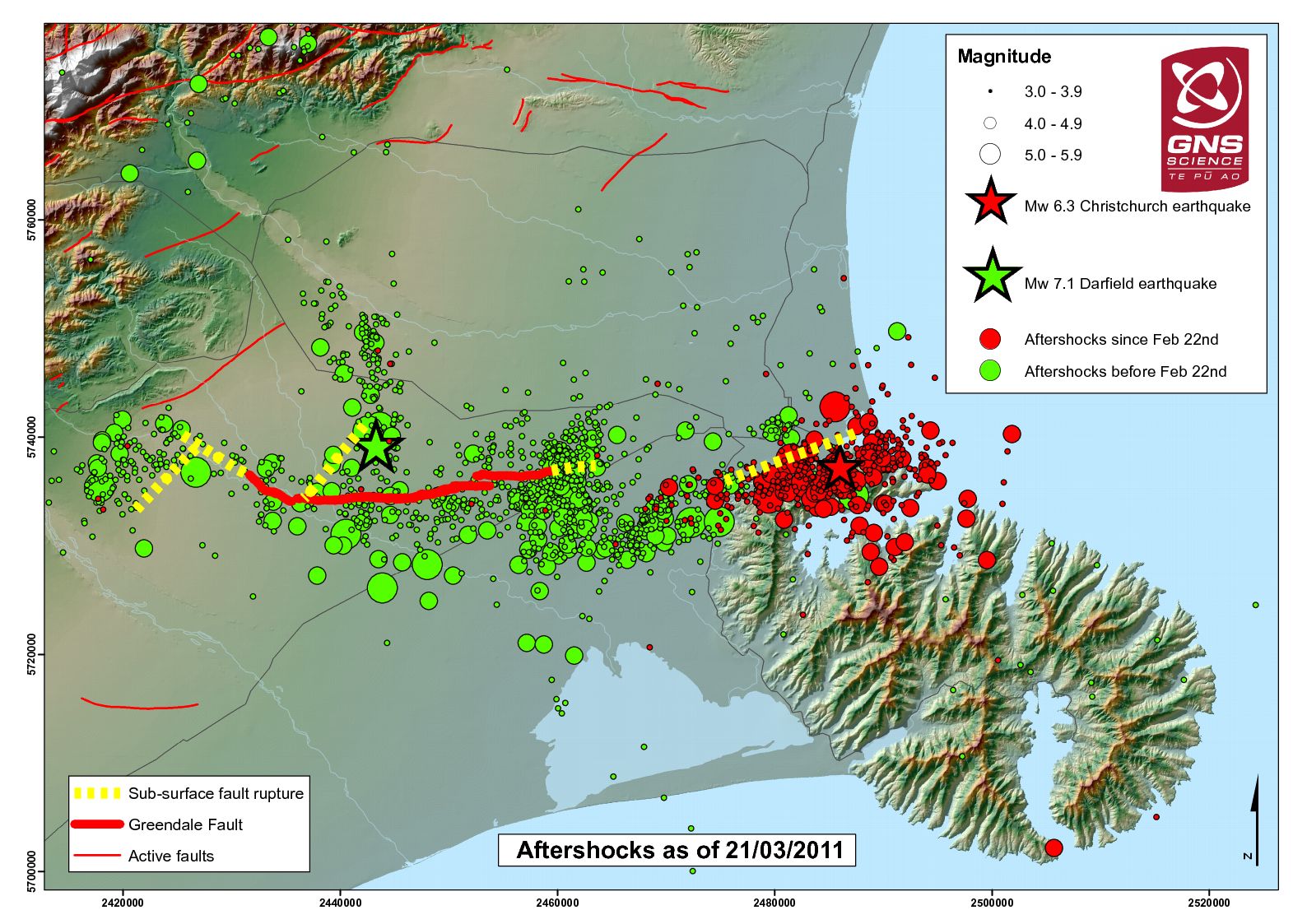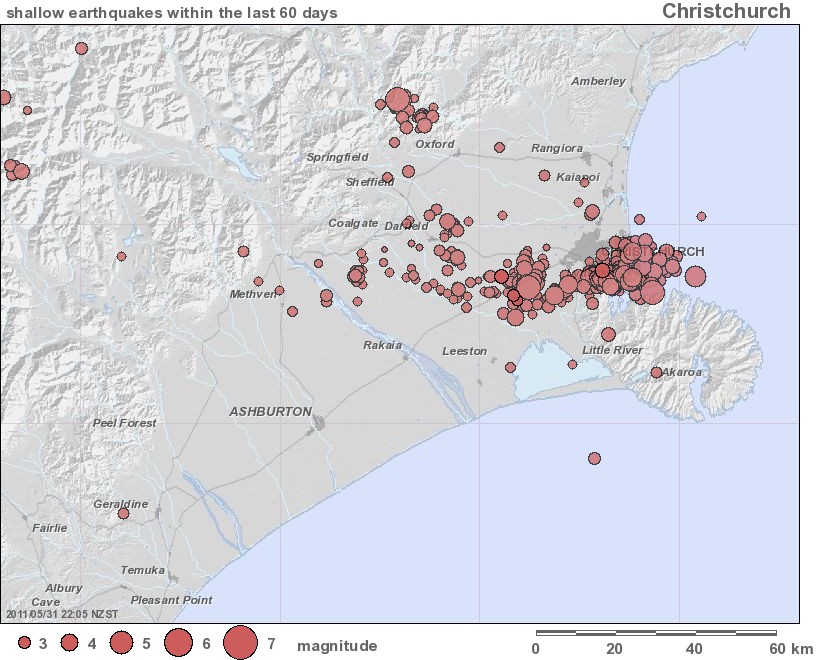 GNS graphics: 60 days Christchurch quakes shallow Apr-May11; note increased Alpine faulting..

Re 20 March 2011 Ken Ring forecast drama that with TV media help ran wild, Earthquake counts go up as moon comes closer: BAARC "Seismologists at the Bhabha Atomic Research Centre have found that the earthquake counts go up steadily as the moon comes closer to the Earth (perigee) and also when it is Full Moon. The scientists have also found that major earthquakes occur more in numbers when perigee coincides with Full Moon and New Moon than at apogee (position of moon farthest from earth) with similar combination, going up to a magnitude of 6.0 on the Richter scale.. It has also been shown that most of the global earthquake catalogue data when examined systematically indicated seismicity variation with local time over 24 hours basis and observed the occurrence of earthquakes to be more during the night than during the day. The earthquake counts go down during the day and it is minimum in the afternoon (between 3 pm and 4 pm) and then steadily goes up till midnight" ref. thehindu.com/sci-tech 22Oct10. General media-led approbrium then silenced Ken Ring, zealously, because he exagerrated the magnitude of earthquakes he can otherwise quite accurately forecast - "[GeoNet] Mag. 5.1 earthquake, Canterbury region" (later downgraded to 4.93) 20 March 2011.

Scientists analyse aftershocks & Sea-floor survey finds no active faults off Chch Press 22Mar11
Quake in ranges out of ordinary "between the Waimakariri River and Lees Valley, about 20km northwest of Oxford.. more than 810 "felt" reports from across Canterbury and the West Coast, and as far away as Nelson and Dunedin. Many of the aftershocks in the past eight months have been near the ends of the Greendale Fault and along the length of the Port Hills Fault. There have also been aftershocks centred closer to Oxford, but Saturday's was beyond the town and over the other, northern, side of Mt Oxford, near the Townshend River. Canterbury University retired geologist Jocelyn Campbell said the area from Porters Pass through to Lees Valley was very seismically active, with a 'spaghetti junction' of faults running through the Canterbury foothills and across North Canterbury. Two thousand to three thousand years ago, a very large earthquake, possibly up to magnitude eight, had been generated by a fault in Lees Valley that left a visible eight-metre rupture. Saturday's quake in about the same area could well have been on a strand of the Porters Pass Fault or one linked with it, Campbell said." Press 2May11

"Significant earthquake" 06 June 2011 NZST: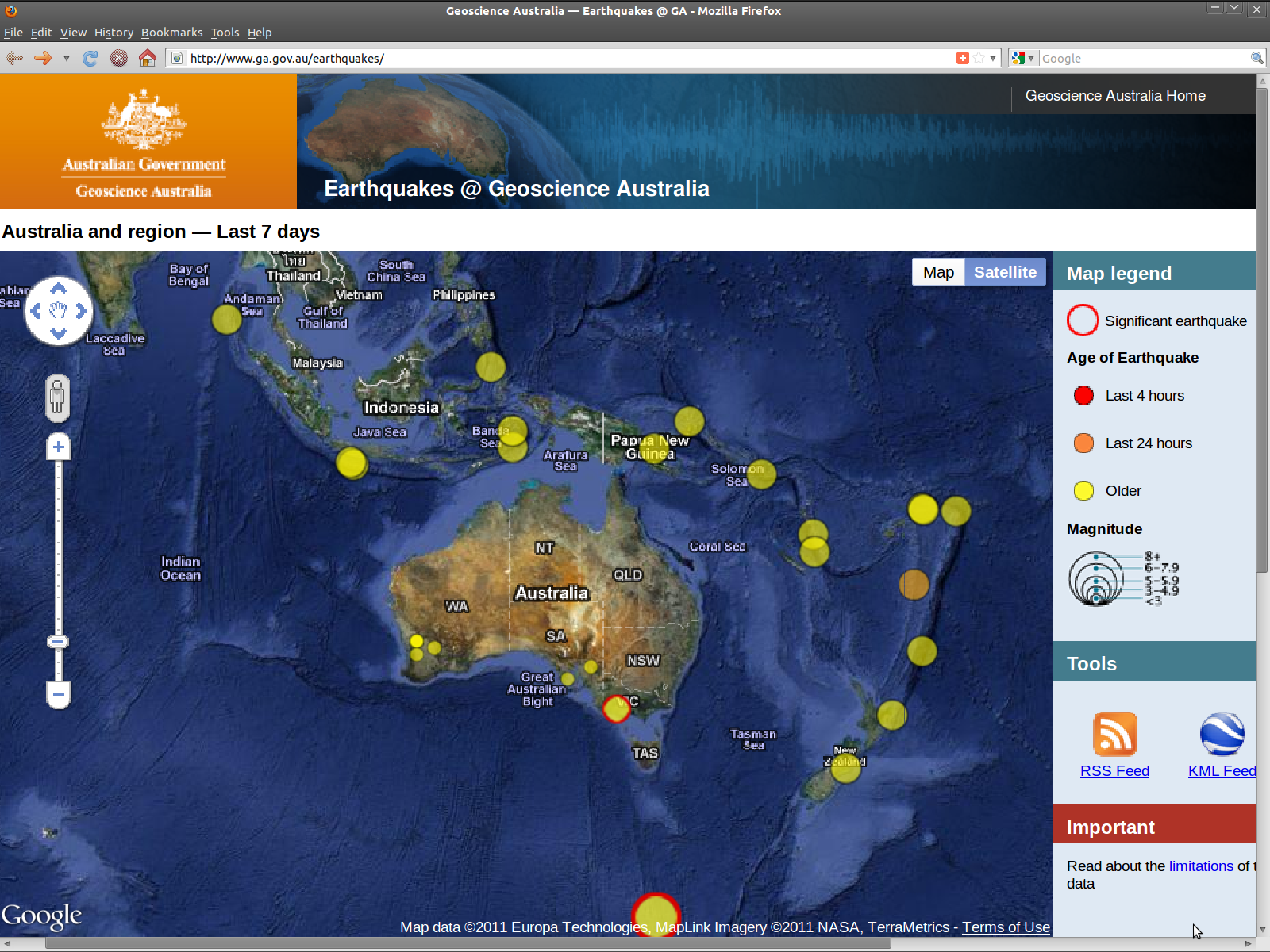 Earthquakes @ Geoscience Australia ...watch this space

5.5 aftershock "third worst day since September 4th" reports TV3 News re total energy released by A trio of tremors "GNS Science duty seismologist Brian Ferris said the magnitude-5.5 aftershock was 'within the forecast we expected'. It was not a sign of "anything big" to come, but it was likely that small aftershocks would follow today's quake. 'It's possible there'll be an increase in activity in the area, but it's unlikely anything as big will occur,' he said." Press 6Jun11 & Quake just 'a classic aftershock' "not ominous. The 5.5 magnitude quake at 9.09am - centred near Rolleston and 15 kilometres deep - was felt as far away as Westport and Dunedin.. within expected forecasts and not a sign of anything big to come" 7Jun11 & 'It's not our fault' - scientists Press 8Jun11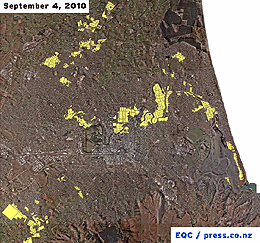 "map showing liquefaction in the February quake had affected an area 10 times bigger than the September quake" Graphic source: 'Patience has expired' Press 11Jun11

13Jun11 Powerful earthquakes rock Christchurch Press & Higher risk of even more shocks "important to realise the risk estimates, and any other aftershock forecasts, were only computer models based on average quake sequences and not derived from any physical evidence.. Given their similar positions, scientists say the 1pm earthquake is believed to be a foreshock of the second quake" & Depth of 5.5 tremor revised to 8km & GNS upgrades earthquake strengths "largest earthquake has been upgraded to magnitude 6.3, with a shallower depth of 6km.. The 1.01pm tremor has also been upgraded to 5.7, and was at a depth of 10km" 14Jun11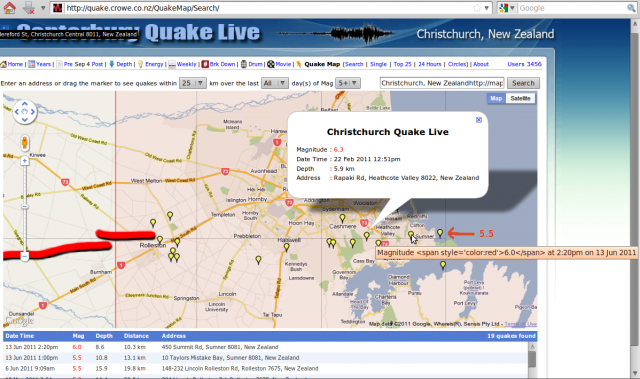 Three main/large shocks line up; 22Feb11 x1 + 13Jun11 x2: Crowe.co.nz Lyttelton area magnitude 5 & larger earthquakes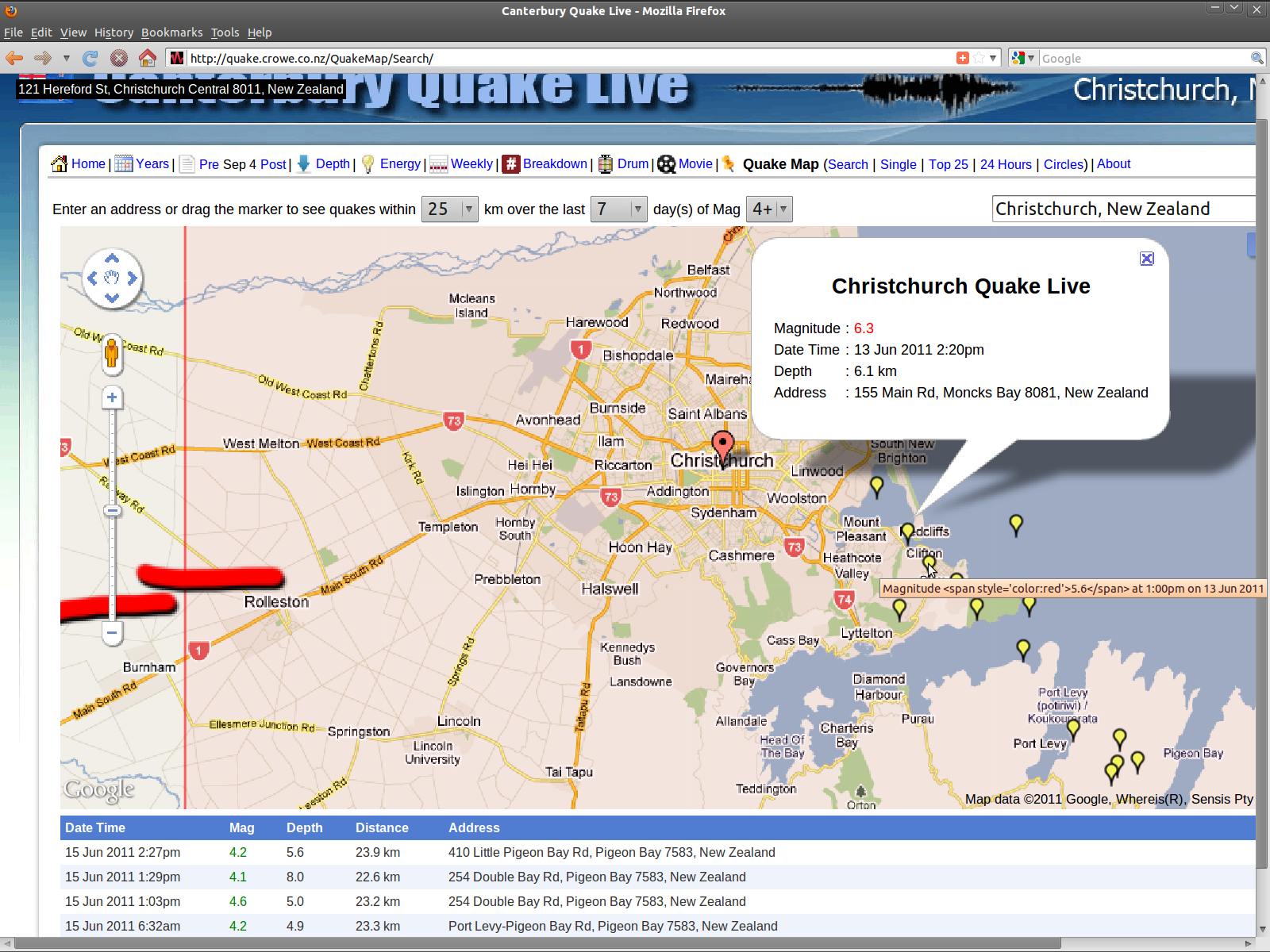 Revised locations 3 days later & more 4+ aftershocks clearly show transmission of rift energy onto Port Levy-Pigeon Bay fault: Be Prepared ~ Monday's earthquakes 'lift risk to 30pc' Press 15Jun11

New: 13 June 2011 InfoHelp earthquake page 3.



22 February 2011 cont'd.. Port Hills half a metre taller after Christchurch earthquake "Satellite analysis by GNS Science shows the top of the roughly east-west buried fault responsible for the February 22 magnitude-6.3 quake lies between one kilometre and 2km below the southern edge of the Avon-Heathcote Estuary. Land on either side of the fault has slipped horizontally as well as vertically, causing the Port Hills to rise by about 40 centimetres and land just south of the Avon-Heathcote Estuary to shift to the west by a few tens of centimetres. Land immediately north of the estuary, on the other side of the fault, has also moved tens of centimetres, but to the east. GNS natural hazards manager Kelvin Berryman said the estuary and land just west of it had sunk by about 10cm.. 'It's not a big fault. It hasn't had a lot of movement on it in the past. The quake occurred at the periphery of the September 4 aftershock cloud. The stress front has arrived there and found a piece of the crust that was primed and ready to go.' There was no indication how long it was since the Port Hills fault last moved, Berryman said. 'It has not been determined before now in any geological maps or geophysics work. 'It could have moved before, but it might be the first time it ruptured in the last 100 million years'" Press 2Mar11 & Earthquake fault known of since September "Cantabrians should not be overly worried about the two or more hidden southwest/northeast-trending faults believed to separate the Greendale and Port Hills features, Berryman said. 'In that sense, every aftershock has been on a fault, so there's a hell of a lot of faults around Christchurch.' But other faults around Canterbury could have been stressed as a result of last week's shake, he said. The Porters Pass Fault was one of those. Scientists believe it last ruptured between 500 and 1000 years ago, and has an average recurrence interval of between 1700 and 2500 years. When it moves it could generate a quake of between 6.9 and 7.7 in magnitude. There had been several aftershocks near this fault since September 4" & Christchurch fault risk 'crucial' to rebuild stuff.co.nz 3Mar11
Earthquake warning system may save lives "The alpine fault is a 650km-long split in the earth's crust between Fiordland and Marlborough. It marks the point where the Pacific plate and Indo-Australian Plate meet, roughly following the western edges of the Southern Alps. The quake recurrence rate is about once every 300 years, with the most recent event in 1717, which means a large earthquake of up to magnitude 8 is possible this century" stuff.co.nz 5Mar11

Monitoring Quake drums from National Network seismometers in the Canterbury region 030611 :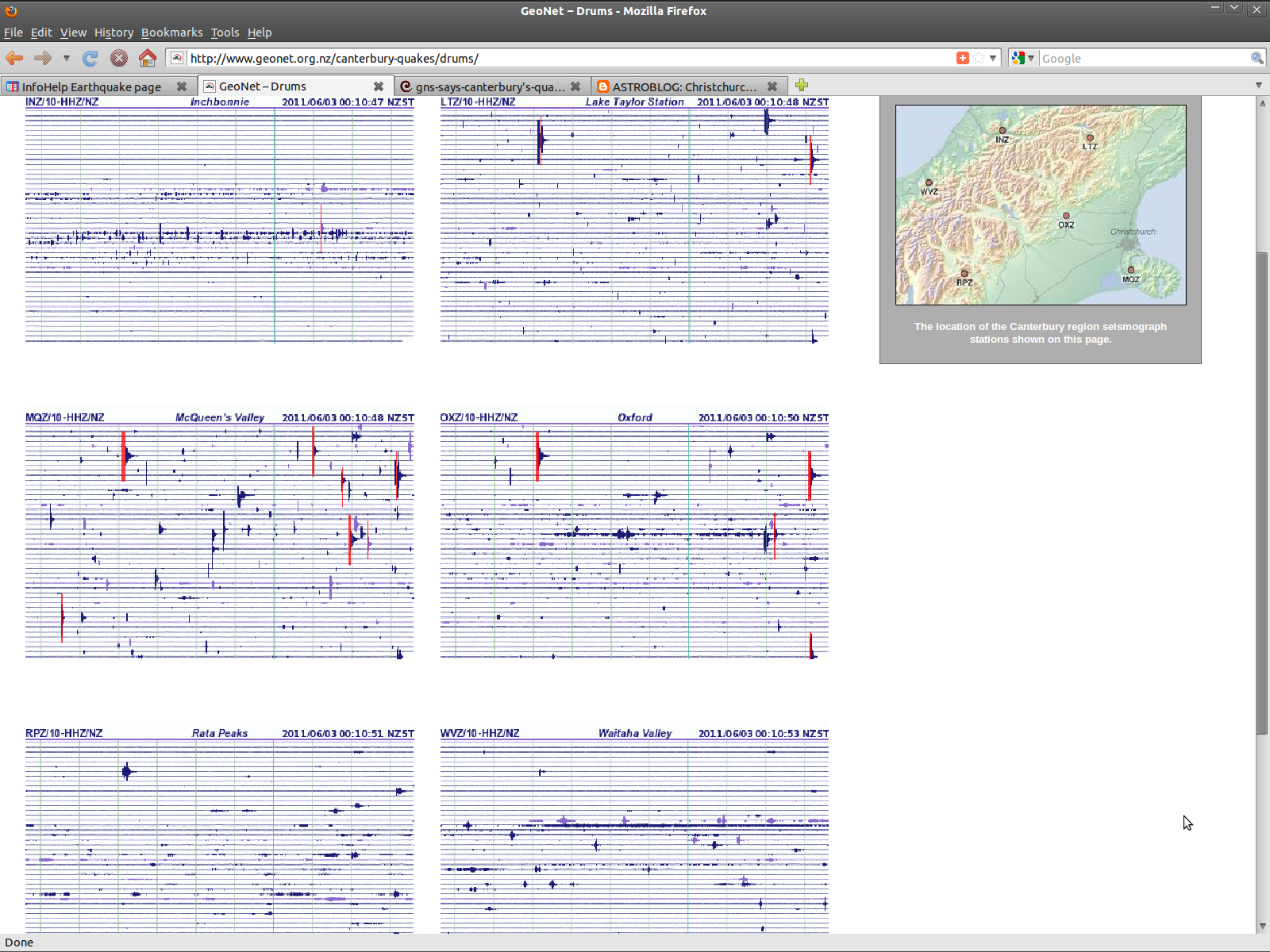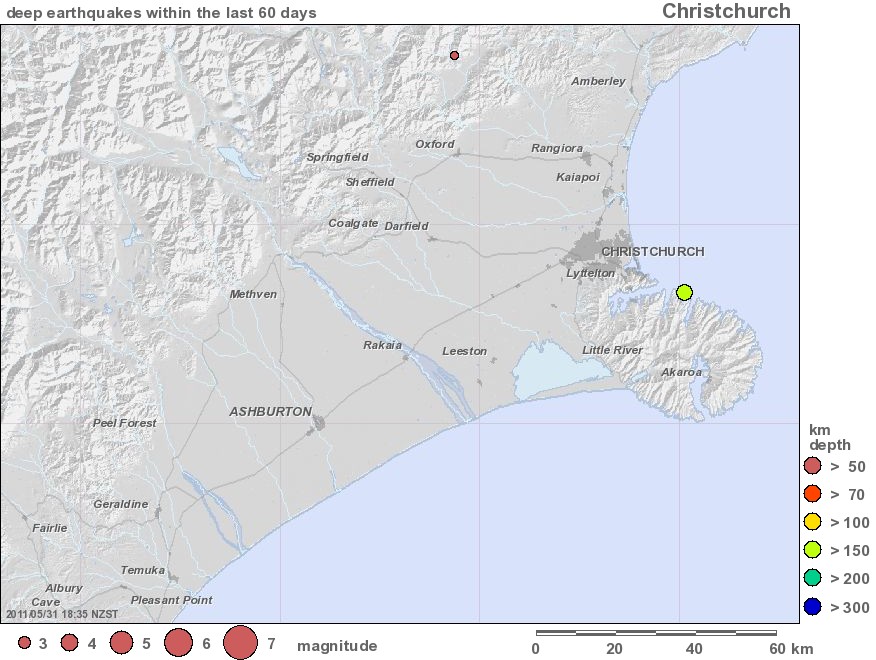 GNS graphics: 60 days Christchurch quakes deep Apr-May11; deep anchor slip..

Christchurch three months on Sunday Star Times 22May11

Big earthquake risk put at 23 per cent Press 31May11 & Quake experts to speak 2Jun11 & New faultlines found "Region has a low fault risk in the long term" & Little change to risk of big quake - expert 3Jun11 * * * * * * * * *
New faults fail to dull optimism "a 25-kilometre-long fault under the sea off Kaiapoi. Two faults run almost directly below central Christchurch and two patches containing possible small faults - one off the Brighton coast and the second just north of Port Levy and Pigeon Bay.. The tsunami risk from the large offshore fault is believed to be very low because it is unlikely to generate a quake higher than magnitude 7.0. Also, its past movement has been mostly horizontal rather than vertical. There is no sign that aftershocks are spreading offshore onto, or close to, it or other already recognised Pegasus Bay faults. The offshore faults are very slow moving, among the slowest moving in the country" / When gossip fills the gap Press 4Jun11 / Updates On The Canterbury Fault Lines Rebuild Christchurch blog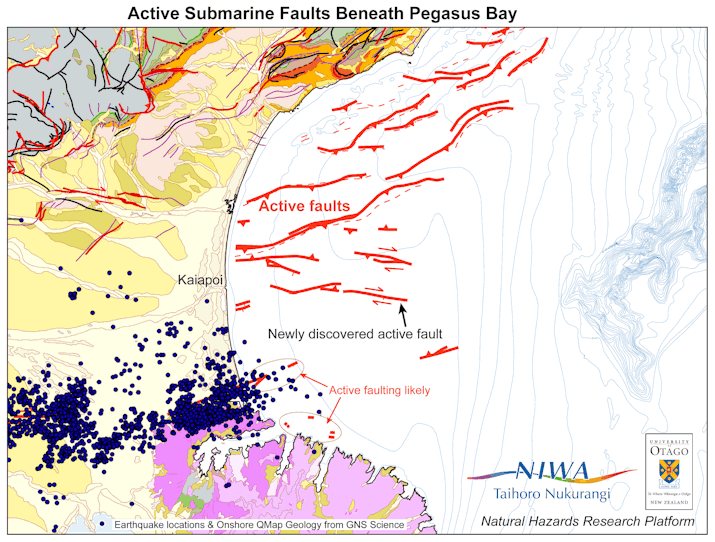 GNS/NIWA graphic: submarine faults Christchurch 3Jun11 & Fault structures revealed GNS media release + Investigations reveal previously unknown fault structures in Canterbury region CERA report 3Jun11 + Kaiapoi rebuild put on hold 16Jun11

See comments on this blog post: new-old fault larger? ~ #kaiapoi #chch #eqnz conclusion; GNS data on Google maps, with the Greendale and Lyttelton faults, the previously mapped and newly-discovered faults, and some indicative deep unlisted faults roughly drawn on in yellow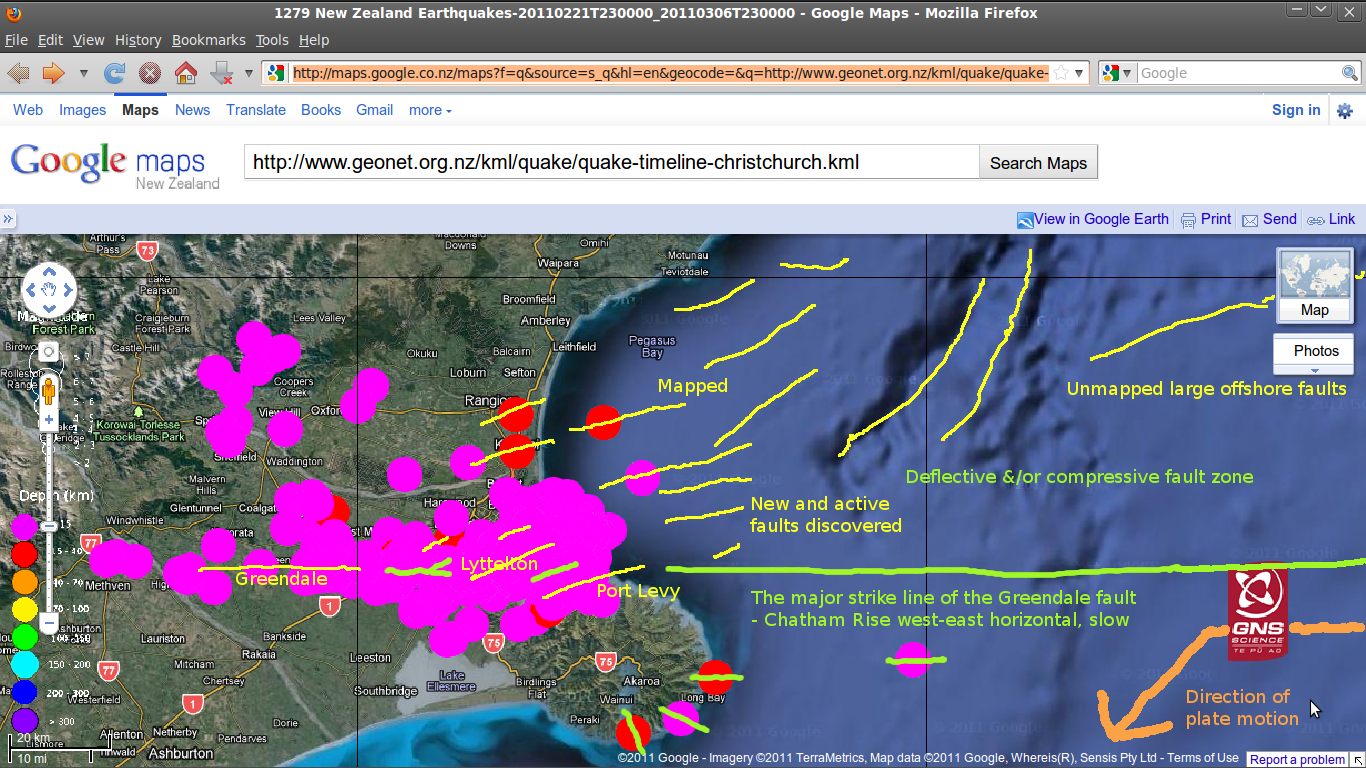 New faults fail to dull optimism "likely active faults.. possible small faults - one off the Brighton coast and the second just north of Port Levy and Pigeon Bay ..area off the north coast of Banks Peninsula was also thought to contain small faults. But no aftershocks had been recorded there"
A Port Levy fault area has been very active since September 4th. Camp Bay Road has had many offshore aftershocks recorded near it, and the Port Levy fault's onshore line was reflected too, in big aftershocks from 22 February - this record was up to 1 March 2011: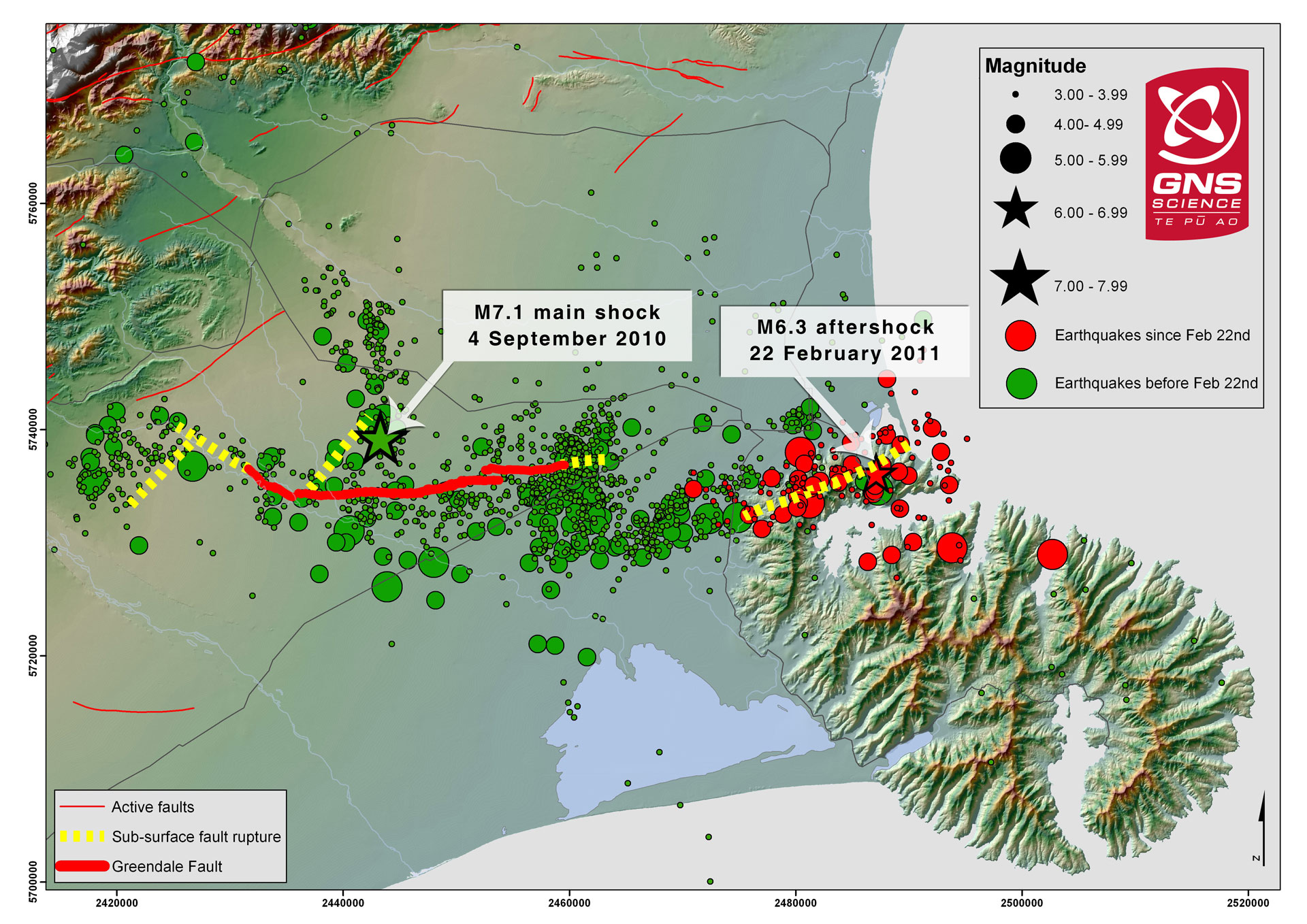 A Diamond Harbour-Port Levy-Pigeon Bay fault may turn out to be the site of the next big earthquake, once enough stress has been loaded onto it from the previous two major quake faults - Greendale and Lyttelton. (The differences between this map and the version made three weeks later, above left - about the Port Levy area - are striking. - ?!?)

My original Chatham Rise "straight line" fault theory has just been affirmed by the Christchurch 13June2011 5.6 and 6.3 earthquakes, so I'm sticking with that - 4 September 2010 InfoHelp earthquake page. I had been dissuaded by the GNS sonic mapping results etc, that put the main 22Feb11 faultline out to sea under South Brighton / Southshore. That is a secondary, splinter fracture to the main Chatham Rise "straight line" fault deeper at work. (Therefore the same continued energy will apply to the fault/s increasingly being expressed south-east of Lyttelton?)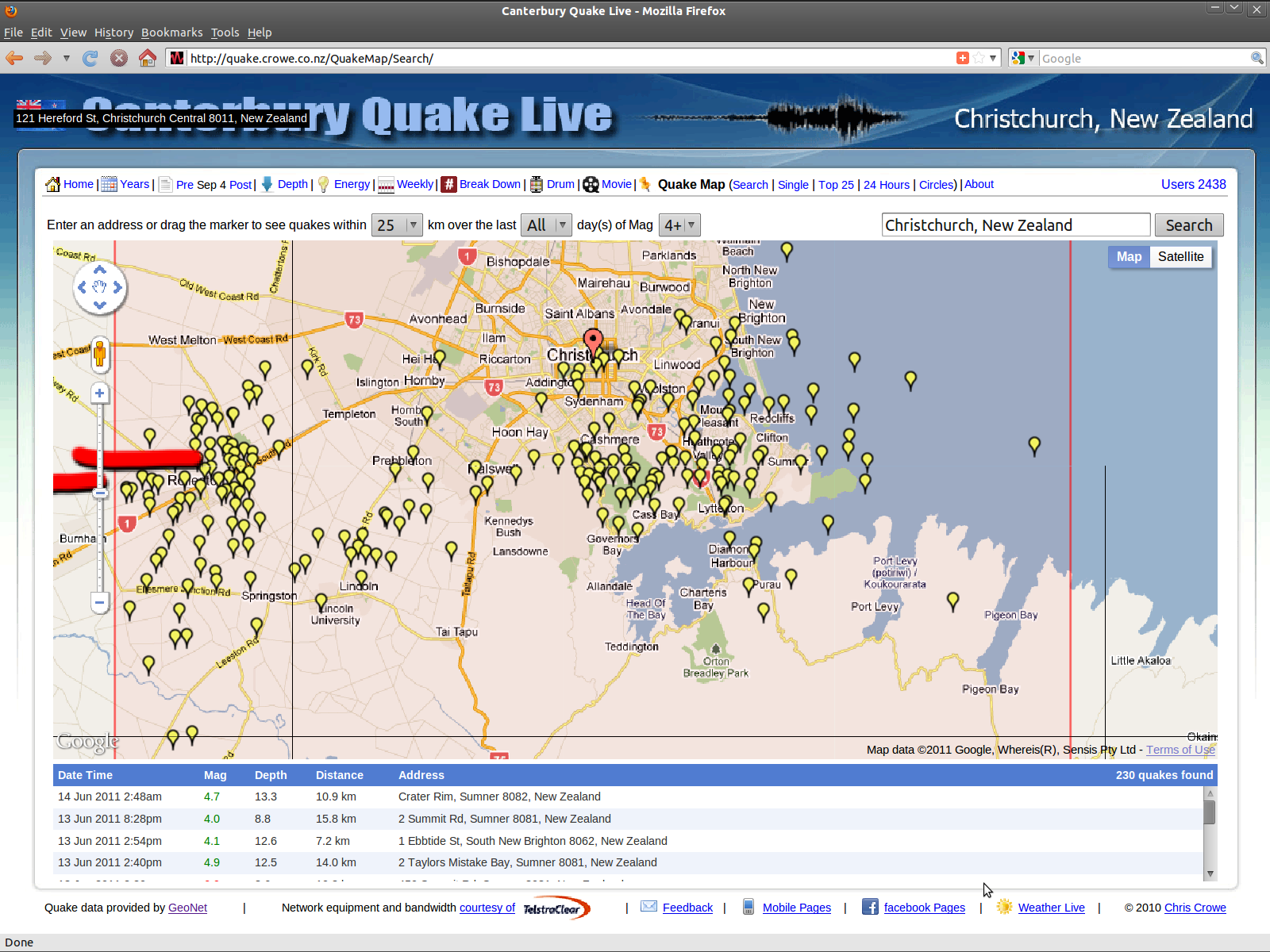 Magnitude 4 & larger Lyttelton area earthquakes to 140611. Graphic source: quake.crowe.co.nz/QuakeMap/Search/

Ask an Expert: Faultline fears and P-waves "Each earthquake changes the stress on other faults nearby, which can lead to a sequence of earthquakes as has occurred recently. For the size of earthquakes that have occurred in Canterbury, these stress changes are mostly confined to the Christchurch/ Selwyn/Waimakariri districts onshore and Pegasus Bay offshore. Any stress changes on the boundary between the Pacific and Australian tectonic plates resulting from these earthquakes are extremely small. In the circumstances, the most plausible scenarios for further earthquakes in the current sequence occurring offshore is for events of similar magnitude and mechanism to those that have already occurred" Press 29Jun11 & Canterbury's fault lines puzzle scientists "The Canterbury earthquake sequence is continuing to puzzle scientists. Victoria University geophysics professor Euan Smith says the pattern is unusual for New Zealand and in terms of its impact on a substantial population centre, it's unprecedented in the world. 'For the aftershocks to be even closer to the population centre and to keep coming in such devastating fashion is very unlucky for Christchurch,' says Mr Smith. He believes the two major fault lines around Christchurch have joined up." NewstalkZB

City council issued building permit for flawed design "Legal action by the families of Chinese citizens killed in the Canterbury Television building collapse cannot be ruled out, the Chinese embassy says. A Department of Building and Housing (DBH) technical report on the central Christchurch building's failure in last February's earthquake found the building did not meet the standards of the day. The report, released on Thursday, also found the flawed design and construction went unnoticed by Christchurch City Council officials who issued its consents" Press 11Feb12 + 'Manifold sins' cost 12 lives "sole survivor of 13 people who were crushed by an unreinforced brick building at 603-13 Colombo St last February 22.. It was declared dangerous in 1982. Cracks in the parapet discovered in 1991. A gap of 44mm between the facade and the building proper discovered on Boxing Day 2010. The City Council's requests for repairs by January 31 politely ignored. The owners requested demolition, but the council said it had no choice but to follow a full six-month consent process. At the royal commission hearing on February 1, 2012, every inspector, every engineer, and every builder said the building was dangerous, irreparably damaged, leaning out over Colombo St, and a danger to the public. In the inspection record, not one said it was safe. But there was no cordon and no fence around the building. Colombo St was open for business. We suffered not from a sin of commission, but manifold sins of omission.. Regulatory failure at its most murderous made Colombo St run red that day. Responsibility falls at the feet of the building owners, Parliament, and most of all the Christchurch City Council. In the Building Act 2004, Parliament encouraged and enabled, but failed to require, councils to enforce a minimum safety standard for known 'earthquake prone' buildings. Christchurch City Council chose a 'passive' policy, of no strengthening requirements. Parliament failed to require, the council failed to enforce, and the owners failed to reinforce - in 1982, in 1991, in 2005, after September 2010, and after December 2010. For 30 years, the owners and the council did nothing.." 13Feb12